Implementing Kaizen 5S / 6S methodologies, using English and Te Reo Māori translations, is a great way to reduce waste and create efficiency at New Zealand businesses: "Big improvements can come from small changes which accumulate over time" .
We've translated the 5S/6S methodology terms into Te Reo Māori and this workplace poster can be used to promote continuous improvement: Whakawhanake.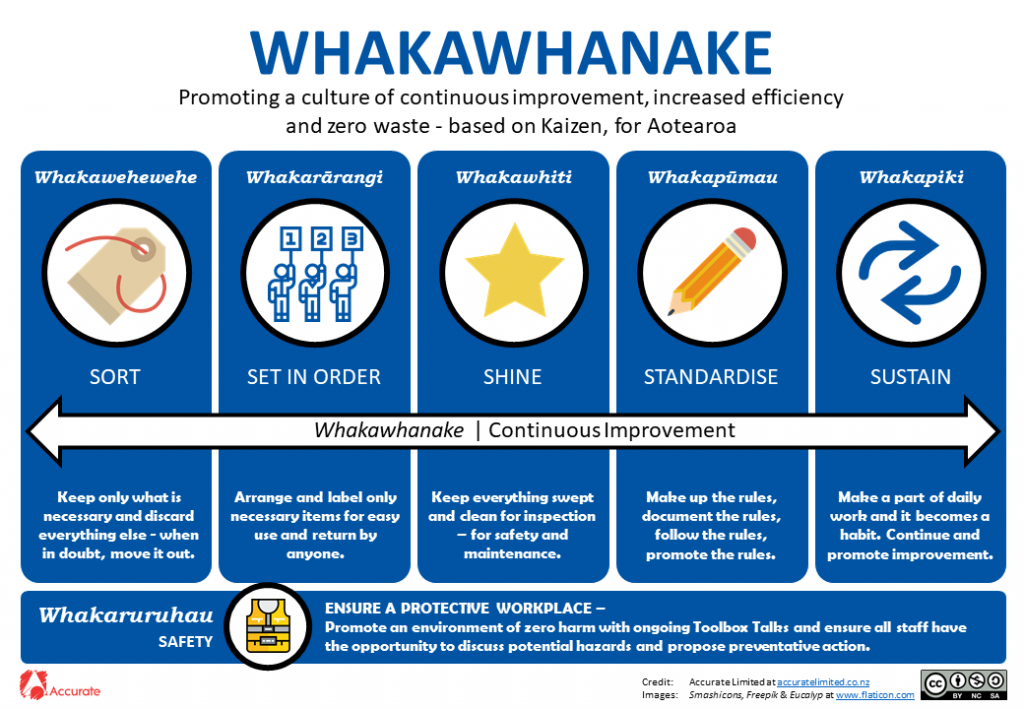 The te reo translations of the steps used in this workplace organisation method more closely align to the original Japanese actions of seiri, seiton, seiso, seiketsu, and shitsuke rather than their English words. The addition of 'safety' as a component step is also included within the translation making this six actions.
You can download the material below in PDF format and it is released under a creative commons licence.
Pronunciation Guide for Kaizen Te Reo Translations
| Māori | Pronounciation | English | Action / Description |
| --- | --- | --- | --- |
| Whakawhanake | Hear Example | CONTINUOUS IMPROVEMENT | Review processes continuously to ensure efficiency and best practice. |
| Whakawehewehe | Hear Example | SORT | Keep only what is necessary and discard everything else – when in doubt, move it out. |
| Whakarārangi | Hear Example | SET IN ORDER | Arrange and label only necessary items for easy use and return by anyone. |
| Whakawhiti | Hear Example | SHINE | Keep everything swept and clean for inspection – for safety and maintenance. |
| Whakapūmau | Hear Example | STANDARDISE | Make up the rules, document the rules, follow the rules, promote the rules. |
| Whakapiki | Hear Example | SUSTAIN | Make a part of daily work and it becomes a habit. Continue and promote improvement. |
| Whakaruruhau | Hear Example | SAFETY | Promote an environment of zero harm with ongoing Toolbox Talks and ensure all staff have the opportunity to discuss potential hazards and propose preventative action. |
| Whakarima | Hear Example | 5S | A word construct to indicate "5 Whakas". The process which excludes the Whakaruruhau/safety component. |
| Whakaono | Hear Example | 6S | A word construct to indicate "6 Whakas" including the Whakaruruhau/safety component. |
For further details regarding the terms used and the reasons for their selection, rather than other words, is available here.
Download Whakawhanake Poster
Purchase for Commercial Purposes
If you wish to purchase the original files and work for commercial purposes or to remove the credits, please contact us.
---
Credits
Audio Files: Māori Dictionary / © Copyright 2003-2018 – John C Moorfield, Te Aka Online Māori Dictionary
Author: David Nolan
Images: Smashicons, Freepik & Eucalyp at www.flaticon.com
---

Whakawhanake by David Nolan is licensed under a Creative Commons Attribution-NonCommercial-ShareAlike 4.0 International License.
Permissions beyond the scope of this license may be available at http://www.accuratelimited.co.nz/contact/.