2015 is the year of the mobile, there can be no argument. Here's 10 compelling statements that reinforce the need for a Responsive Mobile Designed (RWD) website for every business in New Zealand, large or small.
Back in 2010, Morgan Stanley presented an 87 page document that predicted that by 2015, we'd be using mobile devices more than desktop devices as well as many others. Five years on, those predictions and other statistics, show that users accessing information cannot be ignored.
1. Mobile usage exceeded desktop sessions in 2014
As we reported in December, figures show that more than half of all web sessions at TradeMe take place on an iPhone, iPad or Android / Windows 8 mobile competitors with their own version of smartphones and tablets. This is not unique to Auckland or New Zealand and is replicated in other parts of the world according to CNN.
2. Google wants its users to be happy
Last December, Google announced that websites with mobile sites and would get some special treatment on mobile search results: advising web searcherg that the result was "Mobile Friendly" to satisfy the demand by users.
But Google didn't stop there, they had previously announced plans to penalize non-mobile sites from 21 April 2015 and this date is rapidly approaching. It will result in fewer visitors being able to access your online presence and become aware of your business. Businesses will miss new customers and never see their revenue.
It was announced with the slogan:
Let's ditch the pinching, scrolling and aimless tapping, and welcome the new wave of mobile-friendly sites.
3. Mobile usage takes place when desktop alternatives are available
According to Google, 77% of users use their mobile phone when they are at home or at work. They could be using a Windows PC or Apple Mac instead, but customers are choosing the most convenient tool available.
Other stats show that in the United States, 94% of people search for local information on their mobile. This is likely to be replicated in New Zealand but such information has not been released.
So if you are a local business, it has never been more important to have a mobile website: not listening to the demands of customers results in lost revenue.
4. Mobile users cannot read all desktop websites on their mobile device
A desktop website is difficult to read on a mobile device if it is not mobile-friendly and requires the user to pinch or zoom in order to interact with the content. Users find this a frustrating experience and are likely to abandon the site; increasing the bounce-rate that can be seen on Google Analytics data. Alternatively, the mobile-friendly version is legible and user-intuitive.
Consider this image (Source: Google):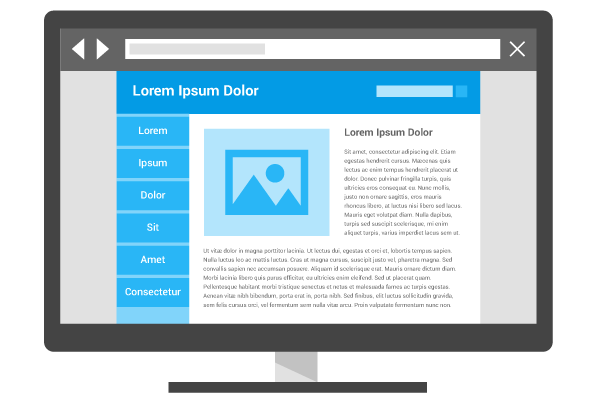 Now compare the same website shown on a mobile device, the first is not mobile friendly, the second is: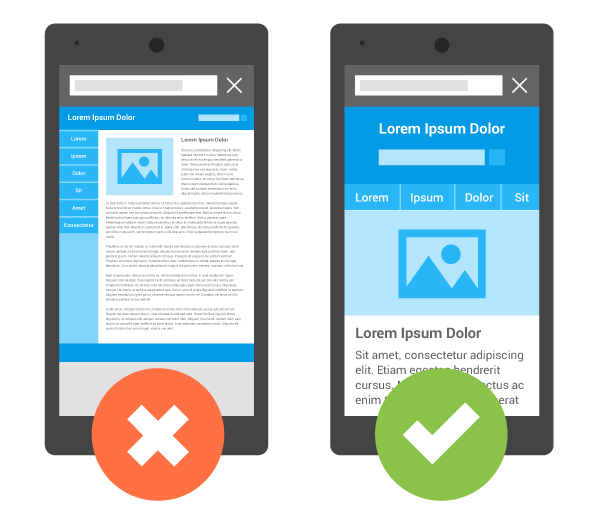 5. Customers will leave and not come back if you don't have have a mobile website
Online statistics show that 46% are unlikely to return to a website that they have had access difficulties with. Furthermore, 1/3 of tablet users are unlikely to purchase from a company that doesn't provide a responsive experience on their device or they have received poor performance, according to mobiForge.
6. If you don't have a mobile site, you will lose revenue
See #5 and #2. Your brand will also suffer, see #4 and #3.
7. We live in a connected and multi-device world and it's customers that choose how to interact with your brand
To help users complete the task they choose to, web design needs to provide a seamless experience across all devices and that's where responsive web design comes into play.
Google released a report called "The New Multi-screen World: Understanding Cross-platform Consumer Behavior" which goes into significant details about online behaviour. The report is too large to link to (110mb) but the general theme is that visitors use a flow of devices depending on the context of their search and what they are trying to achieve. A search on mobile may continue on desktop and vice versa. A responsively designed website ensures the content is shown to all users.
For example: a discussion that begins during a sports match may lead to social sharing that leads to a sale via desktop or another device when the time allows.
8. Your website is old and doesn't work
If you have a desktop site created several years ago, much of it's content simply won't work on a mobile device. Many aging sites use Adobe Flash, Shockwave or legacy plugins that mobile phones and tablets simply do not support.
The iPhone was the first to drop support for for Flash and Android followed after many websites redesigned their sites. There are still many examples of sites if you have anything "flashy looking", and your site isn't responsive to mobile phones, you may be one of them. iPads and Android Tablets are also affected by this.
Remember, over half of web sessions are on a mobile device. That means half of sessions don't work as intended.
9. Creating fixed width displays is dangerously out of date
You could redirect traffic from mobile devices to sub-domains or alternative websites and create a fixed width mobile site for the iPhone. But this would create additional content management issues and fail to reach all devices. Consider the new iPhone 6, that comes in two sizes.
Worse still, Android is a fragmented platform in terms of screen-sizes (viewport widths) with over 1200 different display devices. Since Android accounts for around 25% of all web experiences, RWD sites are the way to go.
10. Even the largest companies aren't doing it the way Google thinks you should
Responsively designed for screen-size is how Google believes all mobile projects be.
Whilst they support multiple mobile site configurations, they advice using RWD methods rather than the redirect method above. TradeMe, on the other hand, seems to disagree and uses a "touch-centric" mobile site. 
For SMEs on lighter budgets, the option is expensive, prone to technical issues, can have a negative impact on search engine optimisation and increases content management requirements so isn't advisable for budgetary reasons.
Conclusion
With modern web standards, you can do some amazing things on the web and Responsive Web Design allows websites to 'degrade gracefully' for older devices and smaller devices.
But importantly, your web presence is about generating revenue in one way or another so ensuring that your site gets you ranked and improves your revenue stream is what you need to concerned with.
Thankfully, RWD goes hand in hand with ROI.